Gabriel J. Christian, Esq
CRPC Board Member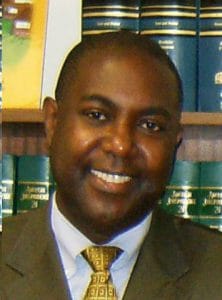 Gabriel J. Christian, Esq. is principal of the law firm Gabriel J. Christian & Associates, LLC, in Bowie, MD/USA. A native of Dominica, Mr. Christian taught history at his alma mater the Dominica Grammar
School and Sixth Form College before attending the University of the District of Columbia College of Business and Public Management in Washington, DC where he graduated with a BBA in Procurement and Public Contracting. Mr. Christian studied law at Georgetown University Law Center in Washington,
DC, graduating with the degree of Juris Doctor in 1991. Mr. Christian was admitted to the Maryland Bar in 1991 and is also a member of the bar of the Supreme Court of the United States of America.
Mr. Christian has distinguished himself as a Caribbean community leader in the Washington DC metropolitan area and as an active civic leader in Maryland. In 2007, Gov. Martin O'Malley, governor of the State of Maryland, appointed Mr. Christian to the position of Judicial Commissioner, Maryland Court of Appeals.
Alongside his long-time collaborator and co-founder of Pont Casse Press, Canadian Judge Irving W. Andre, Mr. Christian has authored and co-authored a number of books on Caribbean history, society and politics: In Search of Eden: Dominica, The Travails of a Caribbean Mini-State (1992); Rain on a Tin Roof (1999): In Search of Eden: Essays on Dominican History (2002). Death by Fire: The Explosive Story of the 1963 Carnival Tragedy (2007); For King & Country: The Service & Sacrifice of the Dominican Soldier (2008); For King & Country: The Service & Sacrifice of the British West Indian Soldier (2009); Mamo! The Life & Times of Dame Mary Eugenia Charles (2010).