Shanta Ramson, Esq
CRPC Board Member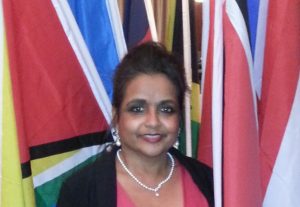 Attorney Shanta Ramson migrated from Guyana in 1977.  She graduated from University of Maryland with a Bachelor of Science Degree in Microbiology and Paralegal Studies, and graduated from Howard University School of Law in 1992.
In May 1994, after working for law firms since 1986, Attorney Ramson decided to start her own law practice in 1994 in Burtonsville, Maryland where she is still located today.  Attorney Ramson formed the Partnership of Ramson & Asher, LLP, where she was the Managing Partner.  In 1999, her partner decided to return to Jamaica to practice law and the Firm became Ramson & Associates, LLC.  Over the years, she successfully represented and litigated numerous personal injury and immigration cases.  She has exceptional legal experience as an Immigration attorney for over 20 years in Court for deportation/removal cases, appeals, waivers, citizenship and permanent resident status whether through family or employment based matters.  She has earned considerable and invaluable acclaims in the Caribbean, Indian, Pakistani, African and Hispanic communities.  She represents clients from 140 countries.  The Law Firm's areas of practice are Immigration, Personal Injury, Estate & Trust/Elder and Family Law which include uncontested divorce, adoption and name change.   She is vastly knowledgeable in all of the above areas.
Attorney Ramson is admitted to practice before the U.S. Supreme Court, U.S. Courts of Appeal for the 4th Circuit, U.S. District Court of Maryland, Courts of Appeal of Maryland, Courts of Appeal of the District of Columbia and the Supreme Court of Pennsylvania.   She is a member of  numerous Boards and Commissions, the American Bar Association, Maryland State Bar Association, District of Columbia Bar, Bar Association of the District of Columbia, Maryland Association of Justice and J. Franklyn Bar Association.
Attorney Ramson is deeply committed to civic engagement in the communities and promotes an equal opportunity environment for all nationalities.