Ambassador Curtis A. Ward, BA, JD, LLM
CRPC Board Chairman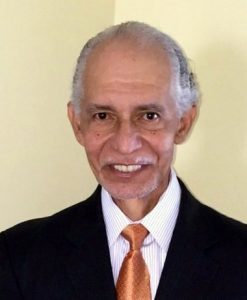 Ambassador Curtis A. Ward is an Attorney-at-Law and International Consultant, and former Ambassador and Deputy Permanent Representative of Jamaica to the United Nations with Special Responsibility for Security Council Affairs, serving on the UN Security Council from Jan. 01, 2000 to Dec. 31, 2001. He has extensive knowledge and experience in national and international legal and policy frameworks for effective implementation of UN and other international anti-terrorism mandates, including countering and preventing violent extremism. His expertise includes capacity building in the legal and administrative requirements for effective implementation and enforcement of anti-money laundering and countering terrorism financing (AML/CTF); and extensive knowledge of the legal and regulatory requirements for effective implementation and enforcement of UN multilateral sanctions and U.S.-imposed unilateral sanctions.
Ambassador Ward travelled to over 30 countries representing the UN Counter-Terrorism Committee (CTC) for meetings and discussions with government leaders and high-level officials, on counter-terrorism (CT) capacity building and related issues; and has provided advisory services to the UN, regional organizations, governments, and NGOs. He has participated in numerous CT conferences, workshops and seminars as keynote speaker, and has lectured globally on a number of security and related issues.
Ambassador Ward holds a Master of Laws (LL.M. – International Law) – Georgetown University Law Center ('81); a Juris Doctor (J.D.) – Howard University (HU) School of Law ('75); Bachelor of Arts (B.A.) (Economics and Political Science) from HU ('72).
Ambassador Ward is an Adjunct Professor in the Homeland Security Graduate Program at the University of the District of Columbia (since 2012); and is a former Adjunct Professorial Lecturer at George Washington University – Elliott School of International Affairs (2010-14). He has given a series of lectures at the National Defense University; at the NATO School (SHAPE), Oberammergau, Germany; the Kofi Anan International Peacekeeping Centre, Accra, Ghana; and lectures on WMDs at the Caribbean Maritime University, Kingston, Jamaica.
Select special assignments and consultancies:
UN Security Council – Chairman of Special Committees on UN Peace Operations and on UN Peacekeeping Operations; member of Security Council Mission to Africa (2002) to advance peace in the Great Lakes Region – met with the presidents of the DRC, Namibia, Angola, South Africa, Zambia, and Zimbabwe, and with former presidents Sir Ketumile Masere and Nelson Mandela with meetings in Kinshasa, Luanda, Lusaka, Pretoria, and Johannesburg.
UN CTC Expert Adviser and Liaison with Regional and International Organizations (05/2002-03/2005) where he developed, directed, and promoted globally the CTC counter-terrorism capacity-building technical assistance facilitation program.
Senior Research Consultant with Security Council Report (2005-2008), specializing in UN Security Council sanctions and counter-terrorism subsidiary bodies.
Legal Consultant to Caribbean-Central American Action (C-CAA) (2007) – on USAID project conducted a comprehensive review of Haiti's port security laws and compliance with international maritime security conventions.
Directed table-top exercises as UN Security Council Resource Facilitator at the Geneva Center for Security Policy (GCSP) – Annual Geneva Games, Geneva, Switzerland (March of each year, 2007–2012).
Head of Mission and Chairman of Joint UN–ECOWAS Fact-Finding Mission, based in Abuja, Nigeria (Aug 2008–Apr 2009) – Team Leader of fact-finding team of investigators to determine the circumstances surrounding the deaths and/or disappearances of over 50 West Africans in The Gambia during 2005.
Expert Consultant to the UN Office of the Special Adviser on Africa (2010-2011) – reviewed, evaluated, assessed and prepared report – Africa and International Counter-Terrorism Imperatives.
Lead Presenter/Lecturer for the Global Center on Cooperative Security (GCCS) – anti-money laundering and countering financing of terrorism training workshop in Addis Abba for Ethiopian government's Financial Investigation Division and other government personnel. (April 2004).
Prepared special report on "Peace and Security: Africa-United States Imperatives" for of Nigeria (Embassy of Nigeria, Washington DC) for the U.S.-Africa Leaders Summit between President Barack Obama and Heads of African Governments (2014).
Chaired Working Group 2, Stockholm Process on Implementation of Targeted Sanctions sponsored by the Government of Sweden/Uppsala University (Feb – Nov 2002).
Practiced law in Washington DC (Full-time 1981-1999).
Served as Foreign Service Officer in the Government of Jamaica (Embassy of Jamaica, Washington DC, 09/1975 – 02/1981).
Founder, Editorial Director, and Writer of The Ward Post.
Ambassador Ward's published writings include issues related to Caribbean security; UN counter-terrorism policy; international sanctions; and international law and relations.